Published:
April 21st 2020
History & Haunting of: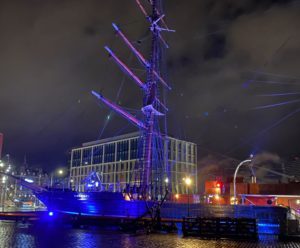 RRS Discovery , Dundee , Scotland
RRS Discovery was the last traditional wooden three-masted ship to be built in Britain. Designed for Antarctic research, she was launched as a Royal Research Ship (RRS) in 1901. Her first mission was the British National Antarctic Expedition, carrying Robert Falcon Scott and Ernest Shackleton on their first, successful journey to the Antarctic, known as the Discovery Expedition. She is now the centrepiece of visitor attraction in her home, Dundee.
RRS Discovery was built for Captain Robert Falcon Scott's first expedition to the Antarctic, which left Cowes in 1901. Discovery was purpose built in Dundee for polar exploration on the orders of Clement Markham, president of the Royal Geographical Society. She had many original design features to aid survival in the then little explored territory of Antarctica. The hull is a complex construction of ten types of wood. An overhanging stern was designed to protect propeller and rudder. Both rudder and propeller could be withdrawn into the hull for repair. Some critics of Scott, such as Roland Huntford dismiss the Discovery out of hand as a shoddy ship.
Meanwhile, writer and polar explorer Ranulph Fiennes talks of faults in Discovery, a tendency to leak and use coal heavily, whilst praising Discovery's sea going capabilities from his own experience of ships in polar seas. Discovery managed to survive two winters trapped in the Antarctic ice pack.
In 1901 the Discovery voyage was comparable with a voyage into space today. The territory to be surveyed was completely unknown. The voyage made a considerable contribution to knowledge about Antarctica. After arriving in Antarctica in 1902 a two year research effort revealed five hundred new kinds of marine creature. Geological discoveries made by Hartley Ferrar indicated that Antarctica had moved from warmer latitudes. This work later contributed to the theory of continental drift. The Royal Society published Discovery's research in ten volumes. As well as scientific work, a nine hundred mile sledge journey into the interior was also undertaken. An inexperienced group of Scott, Ernest Shackleton and Edward Wilson only just got back alive.
Discovery was used in later expeditions, the 1925 – 27 Oceanographic Expedition, and the Banza Expedition of 1929 – 31. She had a long working life, as research ship, merchant vessel and training ship, and each phase of her life required a different layout.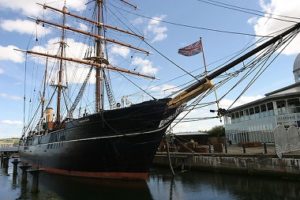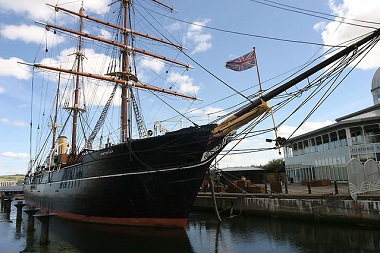 The present appearance of the ship tries to remain true to her long career, rather than the first voyage to the Antarctic in 1901. Nevertheless it is for that voyage that she is mainly remembered. And the famous figures of that voyage, such as Scott,and Ernest Shackleton, have been cleverly personified in the cabins that surround the long ward room. The name of each occupant is painted above the door, and some aspect of their personality has been expressed within the room. Poetry loving Shackleton, for example, has a typewriter sitting on his desk. Perhaps the most affecting part of the ship is the laboratory. It is here that artist, scientist and doctor, Edward Wilson appears to have been hard at work at his desk, sketching the wildlife he has seen that day
There have been strange occurrences on board the Discovery and many visitors refuse to go in some of the rooms. A bulb above Ernest Shackleton's bed also kept blowing and an electrician could find no earthly reason for this. Some say Shackleton loved the ship so much that he never left. Ghostly footsteps have been heard but who they belong to is a mystery
Charles Bonner, who fell to his death from the crow's nest in 1901. There has also been a report of a guest speaking with a sailor for much of the night, but nobody else could see who she was speaking to.
This has been a very interesting location the team have been looking into and another example of how lucky we are to have all this history avaliable to us.