Published:
October 8th 2020
Haunting Nights Interactive Ghost Walks Chester
Some of Chester's buildings date back to Roman and Medieval times and are interspersed with more modern structures from the Industrial age with most having their own haunted tales to tell. It is no surprise that Chester with such a melting pot of eras represented, Haunted Chester has some very interesting paranormal happenings going on

CHESTER CITY WALLS
One well know ghost story of Chester is that of the spirit a Roman Soldier who has been seen many times and appears close to the City Walls. The Soldier is often seen between the amphitheatre and Newgate area. It is said that the Soldier was in love with a local  girl and he left his post a number of times at night in order to meet with his beloved. However, the girl's father found out about it and ended up taking advantage of knowledge and one night when the Soldier had left his post to meet their daughter, they killed the sentries that were left on guard and stole as much treasure as they could carry. When the lovestruck soldier returned he was killed. He's ghost is said to remain close to his post where a dark ghost shadow and cold spots have been felt many times during the years.
YE OLDE KING'S HEAD
Many Pubs claim to hold the honour of being one of the most haunted places in Chester and  Ye Olde King's Head is near the very top. There is said to be a ghostly child that haunts the pub and apparently rooms number four and six are said to be particularly active with reports of poltergeist activity. Many visitors have reported seeing a phantom figure wandering around in search of something. During renovation works in the 1930w, a sword was uncovered beneath the floorboards of room number 4.
Thornton's Chocolate Shop
When we think about properties that are likely to be haunted  A chocolate shop is not usually one of them! Nevertheless, Thornton's  Shop on Eastgate Street is considered to be one of the most haunted places in Chester The shop is apparently haunted by 3 different ghosts. These include a large and jovial man in an apron, a more insubstantial male spirit who is almost invisible and finally, a mischievous female poltergeist known as Sarah.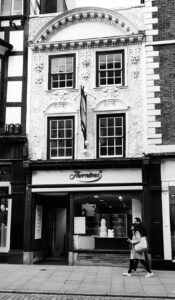 Not too much is known about the ghost of a man, but Sarah is a different. The story goes, Sarah was lovely young woman who was sadly jilted on her wedding day. In her distraught state she came home to Eastgate Street and hung herself. Thornton's now occupies what was once her home. Although Sarah has never been seen, male customers in particular get a very unpleasant feeling of being watched. Sarah is known to move things and even push people. She gets particularly worked up when the Valentine's Day chocolates are put out on display. She has been been known to scatter them all over the floor while the standard boxes are left alone. Sarah has also proven to be very useful to local police! On one occasion, a burglar broke in to the shop and tried to break into the safe. However, Sarah gave him a scare and he fled the scene leaving behind his tools and a complete set of fingerprints!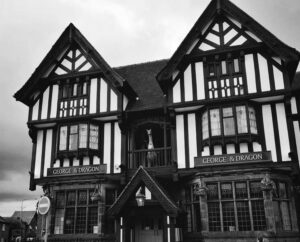 The George & The Dragon pub is said  to be one of the most haunted places in the city and many ghosts still linger the old building. The pub itself is an imposing black and white Victorian building and it is said to be haunted by a legion of Roman soldiers. The Building stands on what was once a Roman road leading out of a fortress and probably explains why there have been multiple reports from staff member and guests seeing and hearing ghostly marching feet beneath the floor of the cellars accompanied by dark shadows.
Join Haunting Nights on an Interactive Ghost Walk Like no other and see where your Ghost Adventure Takes you